What's "IN" in Elnido, Palawan? Travel infos before you travel...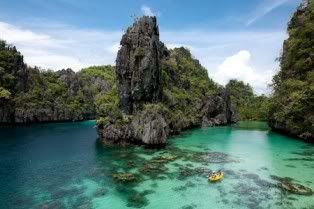 El Nido, Palawan, according to most travelers who made their personal travel to the place that its one of the perfect place for family, group island hopping, kayaking, snorkeling and diving.
The place has 250 Million year-old limestone cliffs, more than 888 species of fish, 4 archeological sites, 45 islands and about 2,645 hectares of Mangrove.
The lime stones cliffs of El Nido were naturally carved out of extensive and thick layers of coral deposits. They formed about 250 million years ago in the shallow sea covering the area that North Vietnam and South China now occupy. These layers slowly rose from the sea as a result of the collision of India and mainland China about 60 million years ago.
Science Facts says: El Nido is part of the Eurasian Plate, an entirely separate plate from the Philippine Mobile Belt to which the rest of the country belongs. A proof of this fact is that Palawan has no active volcanoes, unlike the rest of the Philippine archipelago. Another is that limestone cliffs similar to those in Palawan can be found in Ha Long Bay in Vietnam ad Guilin in China, countries which are part of the Eurasian Plate. It is believe further, that Palawan was detached from the mainland China some 40 million years ago. Palawan drifted southward and linked up with the rest of the Philippines around 15 million years ago.
El Nido is composed of 45 islands and islets, each with its own unique features. Most of the islands have pockets and coves of fine white beaches, perfect for sunbathing and picnic lunches. Within some of the islands are ancient caves with fascinating dripstones formations. In other islands, lime stone walls open up tp lagoons. Weathering and erosion created and continue to shape these interesting geological formations.
Wow! Travel to El Nido Palawan can be very interesting and memory filled.
Source: http://www.palawanelnido.com/